Since 2013, we've been growing audiences of the world's largest events and bringing data to life for associations, event organizers, and professional societies.
​
Today's association marketer is driven by the heightened importance of understanding their customer. This includes having a full view of customer activities and engagement at the individual and organizational levels. Our work takes your organization's great asset - its data - and outlines that customer story to facilitate strategy, decision-making, and overall ROI.
We drive registration conversions by bringing together marketing, registration, and onsite data through our proprietary event data cleaning and metric engine. Allowing you to:
Send personalized messaging

Improve conversion rates

Target audience segments for growth

Pivot your campaign as new information comes to light
We drive metrics to improve sales outcomes. Understanding your organizational customer is critical for:
Retaining sales

Up-selling and sales diversification

Driving new customers through look-a-like prospect pitching
Exhibition & Sponsorship Sales
Looking to tell a specific story powered by the data you already own? We bring our client's data to life - allowing them to showcase their industry expertise and hit their goals across advocacy, marketing, and branding.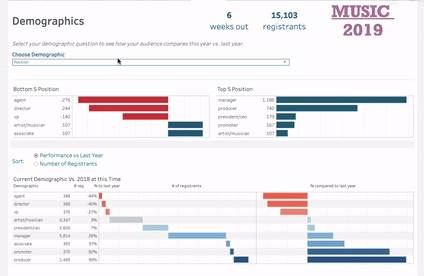 Client success is our primary focus - our solutions, technology, team, and energy is devoted to obtaining our client's objectives.
​
When you work with industry leaders, dedicated individuals focused on powering their decisions with data, innovation becomes easy. You just listen.
​
Our clients are central to Bear's success, which is why we custom spec out each project and annual engagement to their needs--not ours. See a few of these progressive and mission-driven organizations below:​
Working with Bear Analytics has given us valuable insight into our audience's behavior that has not only saved our team from hours of manual data analysis but allowed us to focus on targeting and building audiences that generate revenue.
With Bear's guidance, we've been able to closely track key audiences week over week, and quickly pivot our messaging to ensure that we're bringing the right people to the event.
Danielle Danko
Senior Director Marketing
Solar Energy Trade Shows (SETS)